I was just casually talking with some collector friends from the G503 Tools board about my father, a WWII vet. He was in the Merchant Marines before the war, on the Great Lakes, and open water, too, and he was a quartermaster on the USS Newman (DE 205/APD 59) during the war. For the ground pounders not up on Navy/nautical terminology, this does not mean he handed out supplies. He steered the ship, a Destroyer Escort that was later re-fitted as an APD (high speed transport), serving in the Pacific in 1944 and 1945, and earning five battle stars, with one submarine kill to its credit. Besides seamanship (I learned marlinspike - and just about everything else worth knowing - from him), he was a terrific artist, and spent one year at the Cleveland Institute of Art (I have all his "schoolwork" - pots and pans, spark plugs, lightbulbs and the like, which was all done with an airbrush, magazine advertising style, as well as the airbrush and tank) before dropping out due to expenses (one of ten siblings). In his off-duty time, he provided all the artwork and cartoons for the ship's unofficial "newspaper", a weekly lampoon called THE BARNACLE, which was created and distributed on-board by some of the crew for a brief period (February to July 1945), for their own entertainment. In 1988, at the 40th reunion of the ship's crew, the first and only reunion my father ever attended, they presented him with eight preserved original issues of THE BARNACLE. When he died, back in 1996, I inherited them.
As you can imagine, it was irreverent and funny as hell, and also quite bawdy, filled with the ship's news (a feature called "Bilge Dirt)", running commentary on the war and all things Navy ("One Man's meat"), letters to the editor spoofs, and all kinds of clever riddles, polls, and questions of the week. But what emerges from in between the lines of all the good-natured and often raunchy humor is the story of the war and the ship and some of the ship's more vibrant characters - including two dogs named Salty and Sparky and a monkey they refused to name because the first monkey they took on as a mascot accidentally electrocuted himself behind the main switchboard - making history come alive in a way that books, documentaries, or even movies often don't. What also emerges is that sense of spunk, can-do-ness, invincibility, and esprit de corps - the hallmarks of 'the Greatest Generation' - that others have discussed above when speaking of their relatives. A subtle fear is being warded off on nearly every page, met squarely with solidarity. Needless to say, THE BARNACLE is a treasure.
Anyway, I casually mentioned this - and something about "naked mermaids" to my tool buddies and, naturally, they wanted to see them!
Instead of emailing, I thought about this board. Each issue was about 10 pages long, and I wish I could share them all, which would be impossible. Maybe in time I will post a few highlights, but for now, here are a few first pages of each issue, just to give you an idea of what I am talking about...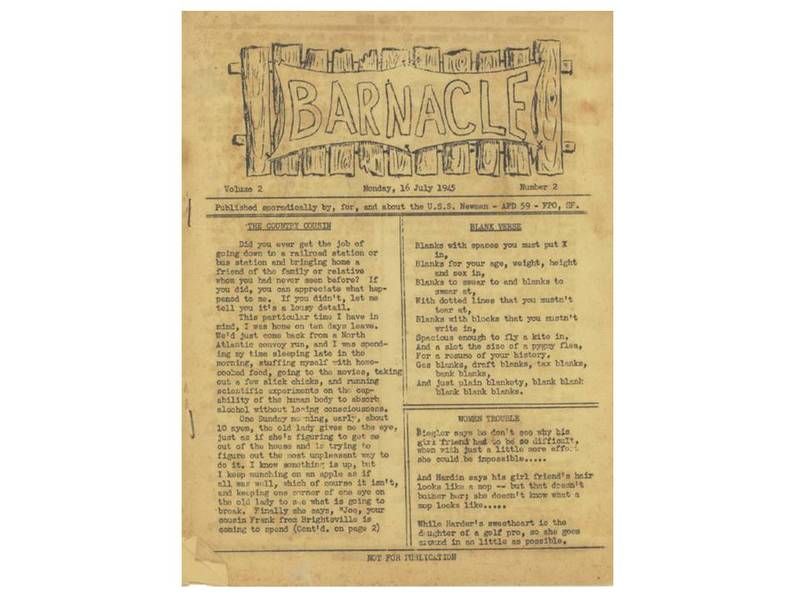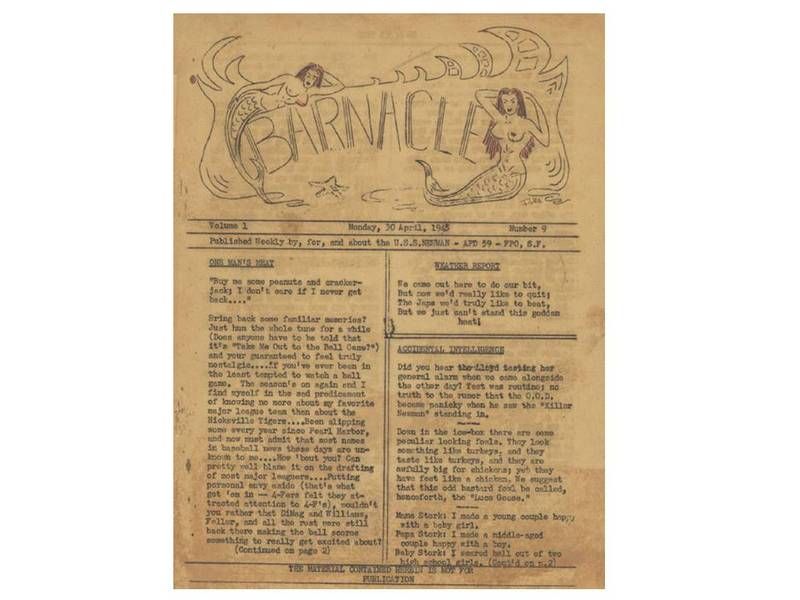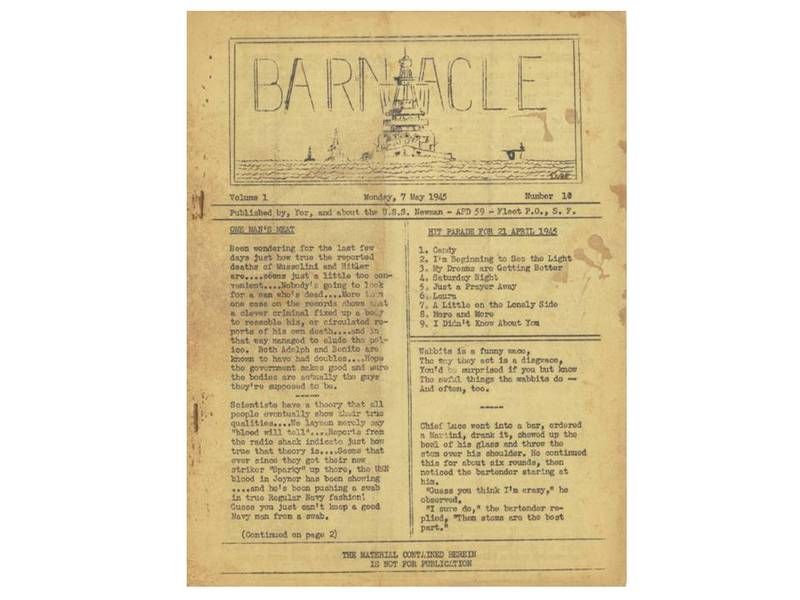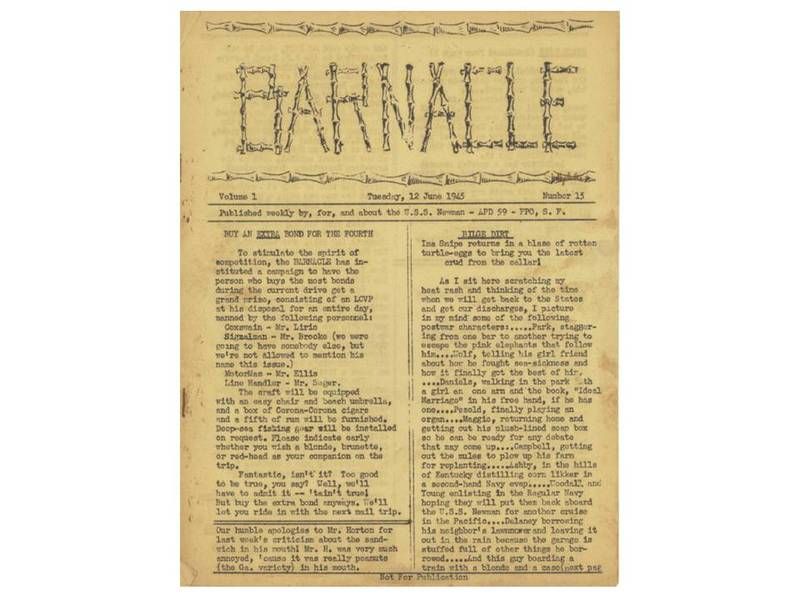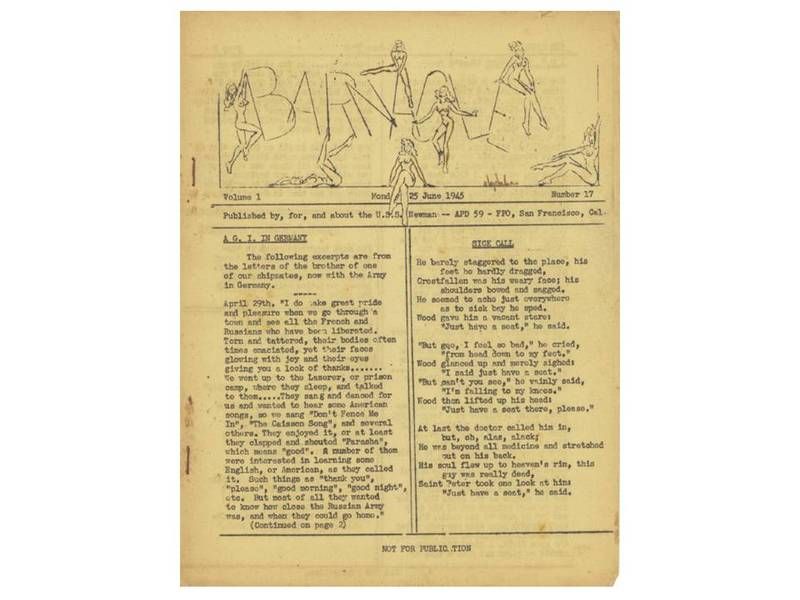 I also have the original "Ship's Log" – which was an unofficial summary of their tour of duty (about fifty pages long), written by one of the officers, for which my dad did the cover.